ABOUT BARBARA STEIN (Download Resume)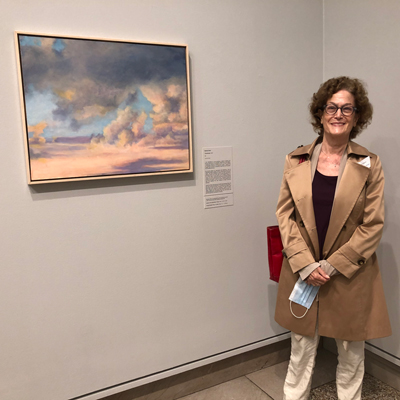 For Barbara Stein, creating art is a natural undertaking.  Her earliest art experiences were influenced by the sights and sounds of her neighborhood in Brooklyn NY.  She recalls the feeling of walking the small streets, and visiting the corner store that sold egg creams, penny candies and magazines.  She also remembers drawing at an early age with her friend who lived next door.

When she was 9 years old, she moved with her family to Roslyn, then a small town on the North Shore of Long Island.  The house was next to a day camp, a stimulus to her imagination.  There was a lot of open space with horses and other animals, and a magnificent 250- year old tree.  She loved to climb and spend time in it, reading and looking at the world from that vantage point. 

Stein's mother was a writer who published stories and poems.  Seeing how diligently her mother worked affected Stein and she realized that writing was a practice, hard work.  This lesson is one that she applied to her own growth as an artist.  Stein's father had a great imagination and made up bedtime stories that conjured up images of exotic animals and places.  Both parents were supportive of her pursuing studies in art.

Stein excelled in art in high school and concentrated on learning to draw.  A pen and ink drawing she created was entered by her art teacher into a student competition and won an award.  This honor and the support of her art teacher had everything to do with her wanting to find out more about becoming an artist.

After high school she attended Carnegie Mellon University in Pittsburgh, PA, where she received a BFA in Art Ed. Stein started her first job teaching art while earning an MA in Art Ed. from NYU.  Because she was unsure of whether she wanted to teach art, she explored art therapy as a possible career, taking classes at NYU.  In college she discovered a passion for ceramics and loved batik and painting.  These passions led to additional coursework at Fashion Institute of Technology and Parsons School of Design, both in NYC.  She shared studio space in a loft on Lower Broadway, NY.

A life move brought Stein from New York to Northern Vermont where she lived for 5 years.  Having been raised in a suburb of NYC, living in Vermont helped her to love the peaceful and majestic landscape.  It was an artistic opening to nature.  A focus and inspiration for her work became plants, flowers, simple farmhouses and barns.  Stein began to paint landscapes there.   She also was fortunate to begin a study of ceramics at the University of Vermont Pottery Shop with a well-known potter, Hideo Okino.  A neighboring artist lent her a potter's wheel and kiln, allowing her to set up shop in her home while continuing to make pots at the University.   At that time, she became friendly with a woman who was setting up a pottery studio. She was invited to work there.   Batik figured into Stein's creative life at this time, along with her first exhibits of pottery and batik in Burlington.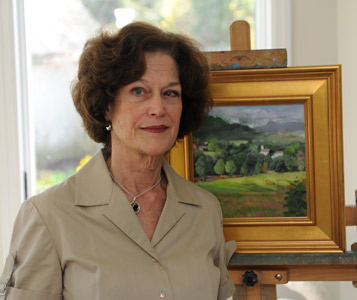 After returning to New York City, Stein worked and lived in Park Slope, Brooklyn.  During this time she worked as a freelance textile designer.  She received a privately funded grant from Studio in a School Association to set up an art studio in an underserved elementary school in Brooklyn.  After two years of teaching, Stein moved to Long Island where she now resides.

Stein's studio is a light-filled space in her home.  Many of her paintings depict natural landscapes she has loved in Vermont and in travels to Iceland, Italy, China, and Japan. She also loves to paint still life.  She begins by drawing thumbnail sketches, choosing a composite or her favorite to draw larger on the canvas.  

Stein has studied painting and drawing at the Art Students League and continues to attend workshops.   She regularly visits the Met and other NY area museums and is inspired by master painters and many contemporary artists.  She finds connection with other artists in organizations she belongs to:  The Art Guild of Port Washington, where she was past President, and the Manhasset Art Association.  Membership in national organizations such as the National Association of Women Artists, Allied Artists of America and the Audubon Artists has given her the opportunity to exhibit her work nationally.

Stein's work is in many private collections.  She is a grant recipient of the Vermont Council on the Arts and Studio in a School Association, and was awarded a residency at the Vermont Studio Center, Johnson VT.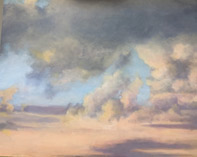 One of her recent Cloudscapes was selected for the Heckscher Museum Long Island Biennial 2020.  As part of the Biennial, Stein gave a virtual studio tour and discussed her work.  Publications include articles in the Port Washington News, Port Washington Patch and the Artists Fellowship Newsletter.
Stein teaches children and adults.  Her mission is to see where her paintings may lead, and to cherish the journey and process of creating beautiful and meaningful works of art.
ARTIST STATEMENT
My paintings explore and express the vibrancy and subtlety of color, creating an intangible ethereal or atmospheric quality. I capture the imagery and moments – sometimes small and commonplace – that resonate within. I paint close views and simplify and distill the composition and other elements.
My current body of work grows out of past and present life experiences. Having lived in New York City, Vermont, and Long Island each of these places has affected and inspired my paintings. I select the media – oil, pastel, watercolor, or drawing materials – that best suit my subjects.
Barbara Stein